Add the Oral Spray to Experience
the Complete GenF20 Plus® System And Achieve Maximum Results
Benefits associated with HGH include:
A more youthful appearance
Increased muscle tone
Fat loss
Increased metabolism
A super-charged sex drive
Greater energy
A strengthened immune system
Add A 6 Month Supply Of GenF20 Plus Spray
MSRP (USD): $359.70
Today Only $169.95
Click Here To Add The Oral Spray Now
No Thanks
The GenF20 Plus® Oral Spray With Alpha GPC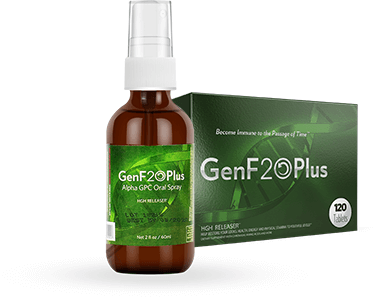 The GenF20 Plus® Oral Spray With Alpha GPC
Want to really kick-start your production of HGH again?
Use the GenF20 Plus® Oral Spray daily, in conjunction with the Daily Supplement!
This potent HGH secretagogue in an oral spray has been formulated to include a complementary blend of amino acid compounds and botanical agents including the clinically proven HGH booster "Alpha GPC."
GenF20 Plus® Oral Spray supports your body's own natural production of Human Growth Hormone. Benefits of Alpha GPC reported in clinical studies include:
Increases secretion of HGH by the Anterior Pituitary
Enhances the effects of other hormones produced by Anterior Pituitary
Improves mental focus and cognitive function (by enhancing the synthesis of phosphatidyl choline)
Increases strength-training results during workouts
Improves fat removal from the liver
Improves fat removal from the liver
Boost Your HGH Production Even MORE!!!
Now you are getting the full benefits of Alpha GPC in an oral spray that works synergistically with the powerful formulation already contained in the GenF20 Plus® Tablets, as shown in our clinical study on the full GenF20 Plus® system.
You see, GenF20 Plus® initially started as a daily pill and while the competition only required you to take 1-2 pills per day, GenF20 Plus® required you to take 4 pills per day (with an enteric coating to maximize absorption) ensuring that you received the correct dosage of each ingredient to maximize results.
When we started studying the science behind Alpha GPC, a new powerful HGH releasing ingredient, we knew we needed to add it to GenF20 Plus® but since our pills were already so full of essential ingredients we knew it would have to be created as an additional supplement and that is why we chose to add the GenF20 Plus® Oral Spray.
Other known HGH boosters included in GenF20 Plus® Oral Spray are GABA (Gamma Amino Butyric Acid), Mucuna Pruriens (seed), Moomiyo Extract, Ornithine Alpha Ketoglutarate, L-Glutamine, L-Arginine, L-Lysine, L-Valine, L-Isoleucine, L-Tyrosine, and Glycine.
Take 6 sprays orally every day in conjunction with your GenF20 Plus® Daily Supplement for maximum effectiveness!